Death: It's not a penalty.....and I can prove it.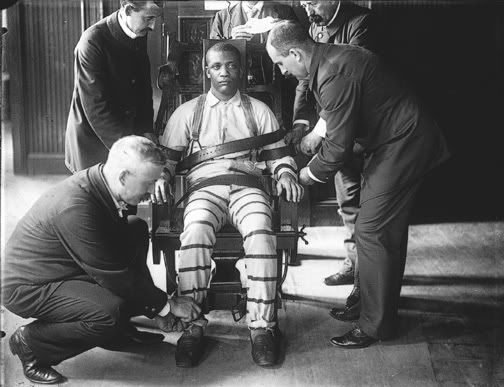 Few issues lead to such apparently inconsistent positions as does the death penalty. Much of the "pro-life" community, for example, is staunchly pro-death in this context. As a criminal defense lawyer, I might be expected to categorically oppose capital punishment; under circumstances where culpability is beyond doubt, however, I have no problem with it at all, but for reasons other than those you might expect.
It's well established that the death penalty is not a deterrent. I would argue that it's not even a penalty. And if it's neither a deterrent nor a penalty, what's the point? Follow my reasoning, here.
First, I approach the question from my own atheistic point of view. Death is nothing more than the permanent termination of consciousness. Once one's consciousness has been terminated, there can be no punishment, no joy, no amusement, no irritation, no nothing. By this reasoning, the death "penalty" is actually an end to the awareness that one is being punished, or, in other words, the premature
end
of punishment. If Mr. Killer is jailed on Tuesday and executed on Wednesday, he's only been punished for one day, after which his consciousness is humanely and mercifully extinguished. That doesn't strike me as particularly penal. I suspect that most people, when presented with a hypothetical choice between 40 years in a penitentiary and a swift, painless demise, would at least give serious consideration to the "easy way out", with emphasis on the word
easy
.
But most people do not share my godless take on things, so my argument must address the majority view. In the Christian tradition, there is an afterworld. Those who have accepted Jesus as their Lord and savior are admitted to Heaven, an eternal paradise. Now the various sects of Christianity have various means by which a sinner can be admitted to heaven. Baptism by immersion, confession and absolution, whatever. Even the most evil baby-raping murderer can enjoy Eternal Bliss, if he does what is necessary. If Mr. Killer has complied with the requirements, he attains paradise immediately after riding the spike. Again, not particularly penal.
Let's suppose, however, that our subject's crimes were so gross, so heinous, that even God can't forgive them. And to make matters worse, he's proud of his crimes, and professes an eagerness to commit even more and more egregious offenses. In such a case, Hell looms as the ultimate punishment. The doomed will spend eternity roasting on the coals and being tortured by Satan and his legions of lesser imps and demons.
"Aha!", says the pro-death Christian. "That's the ticket!" Or is it?
Eternity is a long, long time. And if we execute Mr. Killer at age 30, we've only added about 40 years to his torment. Do the math; 40 years is an
incalculably, infintesimally small percentage of eternity
. It doesn't even equal the percentage of an ocean represented by a
single molecule of water
! By executing Mr. Killer, we have only increased his damnation by an amount too small to measure.
Life imprisonment, on the other hand, will consume 100% of the damned's Earthly life, during which time he may contemplate the horrible fate which awaits him. Consequently, such a fate imposes decades of temporal punishment on the criminal, followed by eternal punishment on his immortal soul. QED, the death penalty is less penal than life imprisonment.
As life imprisonment is more penal than death, it should be the preferred mode of punishing the worst among us. It has the additional benefits of allowing for correcting for racial bias in capital cases and righting the occasional wrongful conviction. Furthermore, the expense of keeping prisoners fed, clothed and housed for life is a small percentage of our total corrections budget. There is an economy of scale at work here. We could more than make up for it by not imprisoning people for possessing small amounts of marijuana, for example.
Now, you may argue that the death penalty serves other functions, such as providing "closure" to the victims and their families, or quenching our species' unique thirst for revenge. Well, that's fine. But the justice system doesn't exist to provide psychological remedies for the wronged, and in many states (including mine) the "closure" afforded by the death "penalty" is not available anyway, under any circumstances. So, let's drop the pretense that we're punishing anyone by executing them. If we're satisfying our bloodlust, let's just say so. And if we're not willing to say so, then we shouldn't be doing it.
Your thoughts?