A liberal looks at the World Cup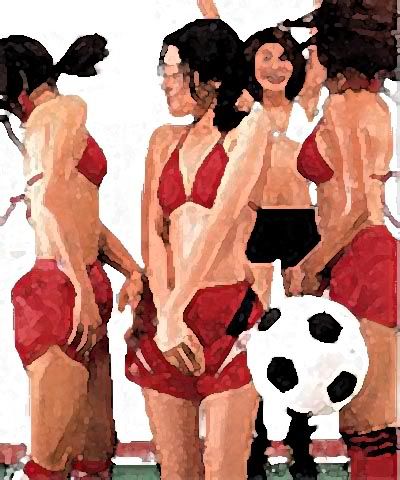 I guess I'm a typical American sports fan, albeit a liberal one. Football, baseball, the major golf tournaments, college hoops during March Madness, the occasional auto race, the Olympics. That's more than enough to occupy my time from season to season. Like most Americans, I don't follow soccer, save for every four years when the World Cup penetrates my consciousness.
But after six years of the Dim Son administration, the world looks at America differently, and the World Cup serves as the lens which most closely approximates how they see us.
This is not baseball, where our "World Series" ignores Latin America, Japan, and other countries where baseball is played, and played well. It's not American football, beloved at home, but widely ignored the world over. It's not even the Olympics, where we field a team in every event, and our sheer force of numbers guarantees us a spot high in the medal standings.
No, this is soccer. The world's game, open to all comers if you can cut the mustard. A game in which wee Togo and tiny Trinidad y Tobago can make the cut, but Russia and Canada cannot. In other words, it's a meritocracy. It's not the G7, or the UN, where America's seat at the table is assumed and assured. The mighty USA has to get into the World Cup the old fashioned way...we have to eaarrrn it. And in recent years, we have done so. We've qualified, but little more. And then we've trotted out a string of excuses, redolent of sour grapes. "Our best athletes play football and basketball." "Soccer is a sissy game." "We just aren't that interested in soccer."
To all of which I call "bullshit."
We went to the fuckin' moon! Are you telling me we can't chase a ball around and kick it into a net the size of a two car garage? Well, actually, we can't. And
todo del mundo
knows it. We're the 1990 Yankees...67 wins, 95 losses and 21 games out of first place. We're Gulliver, bound, poked and prodded by Liliputians. We're terribly, terribly
average
.
There is a parallel between our World Cup performance and our recent performance in other areas of global discourse. We no longer enjoy the presumption of perfection. Our motives are no longer assumed to be noble. There is some serious question as to whether we can cut the international mustard. Diplomatically, we have to play our way in to the tournament.
Once we led the world against Nazi Germany and Imperial Japan. Once we played pot-limit nuclear poker with the Soviet Union, and the other guy blinked, then folded. Now, weakened at home and abroad by the reckless policies of the Bush Administration, we are reduced to leading a piss-poor "coalition of the willing" (Eritrea, Estonia, Latvia, Uzbeckistan) in a failing occupation of an already weakened Iraq. And we stand, like Ozymandias bestride the goal, while the Czech Republic scores three times between our vast and trunkless legs of stone.