The dream is over..........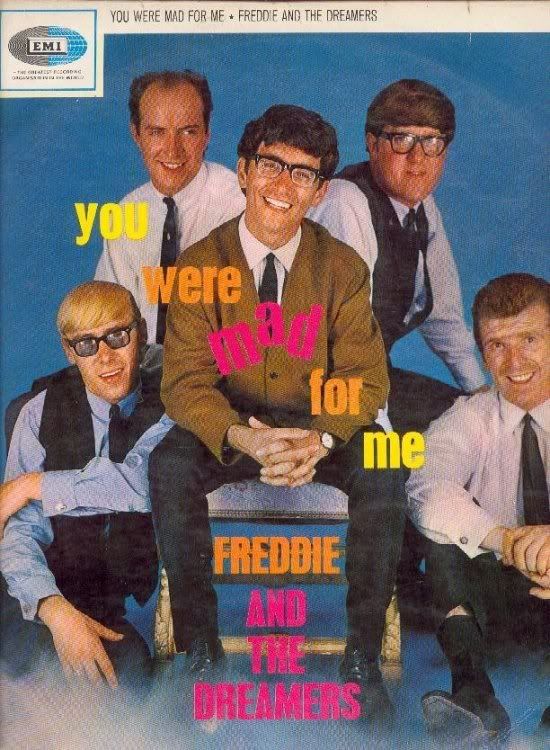 This just in from CNN:
British pop star Freddie Garrity, former lead singer with 1960s band Freddie and the Dreamers, has died at the age of 69.
Garrity died on Friday in hospital in North Wales, his agent said on Saturday.
His five-piece band had hits in Britain and the United States with "I'm Telling You Now," "You Were Made For Me" and "Over You."

Now, I'm not going to claim to have been a big fan of Freddie and the Dreamers. Of course, I remember "I'm Telling You Now", and "Do the Freddie", but they were just one bit of fluff in one of the fluffiest decades in popular music history.
I lament Freddie's passing while at the same time celebrating the golden age of "bubble-gum" music. The Archies were the archetypes, of course, but bubble-gum was ubiquitous, and its practitioners were legion. To name a few: 1910 Fruitgum Company, Tommy Roe, Kastanetz-Katz Singing Orchestral Circus, Ohio Express....the list goes on and on. The authoritative source for all things bubblegum can be found at
The Classic Bubblegum Music Homepage
.
Did you love it? Did you hate it? Can you still sing along with "1-2-3 Red Light"? (Ev-ry time I try to prove I love you, 1,2,3 Red Light, you stop me....) Add your own percussion. (Hint: Clap-clap, clap.) Before anyone goes all snobbo on me, you should know that Donald Fagen and Walter Becker were in Jay and the Americans before they formed Steely Dan. You might also refer to "The Captain Cooks", XTC's bubble-gum project. I'm still tracking down a rumor that Mahavishu John McLaughlin was the guitarist for Edison Lighthouse. Do you have memories of bubblegum? Would you like to share with the class?