For an encore, he'll wipe his ass with it.....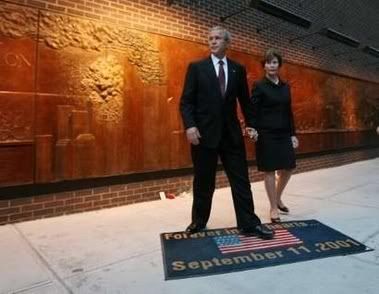 It's one thing to
stage a photo-op
, even a
dishonest photo-op
.
But to pose for what is obviously intended to be an archival photograph while wiping ones feet on the American flag is just eye-poppingly, knee-bucklingly wrong.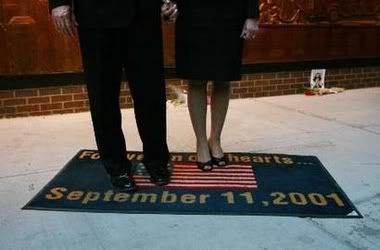 And then,
to re-pose for more of the same
? On 9/11? You've got to be fucking kidding me!!!!
Look, I've got a vocabulary on an exact par with Mary Baker Eddy*, but I can't even begin to assemble the words necessary to address this. I am, at long last, speechless. And can you imagine the reaction in the Muslim world, where even showing the soles of ones feet is considered to be offensive? I am absolutely, utterly, comprehensively gobsmacked. Hey George, here's an idea. Why don't you drop trou, squat and strain, and lay down a nice big Cleveland Steamer right between the Stars and Stripes? And then your boyfriend-killing wife can wipe your ass with the Constitution.
*A free add (blog of your choice) to my blogroll for the first to identify the source of this quote.
UPDATE
: Although Reuters apparently included the above photos among official photos of the 9/11 observance, there is now
evidence
that these pictures were created months ago by an artist named Ray Caesar. So a lot of people got p@wn3d. What's remarkable is the fact that nobody was particularly surprised to think that Chimpy and Pickles would do such a thing. The surprise arose from the pictures being released, not their existence. Their truthiness was never in doubt. Hey, maybe Disney/ABC can make a movie about it!