The expanding universe....and everything else.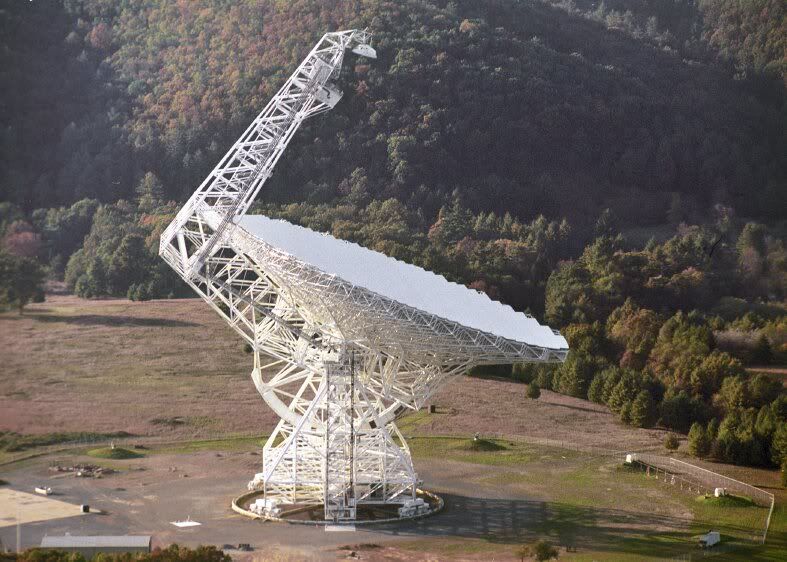 The picture at the left is the 100 meter radio telescope located at
Green Bank, West Virginia
. It was in 1959 in this remote Appalachian valley that science began to transcend the visual, discerning the nature of our expanding universe at frequencies not visible to the human eye. It was in this selfsame bucolic mountain valley on June 23, 2006, that I discerned the nature of an expanding brake caliper piston. Carefree, like a fucking flatland moron, I rode the brake as I descended from the mountain above to the valley below. And as I came to a stop at the Visitor Center at Green Bank, I was greeted by a billow of smoke from beneath the right front fender of my super-annuated Ford Ranger. It was that same phenomenon of expansion, generated by the heat from my abused braking system, that caused the brake caliper piston (which closes and (ideally) opens the caliper holding the brake pads against the disc, thus slowing the rotation of the wheels and bringing one's vehicle to a safe and controlled stop) to expand while in the "closed" position, essentially setting my brake pads on fire.
My musings on the serendipitous juxtaposition of these sublime and mundane examples of expansion were (I now see in retrospect) a defense mechanism against the well and truly fucked position in which I found myself. I was deep in the mountains with no brakes and a truck that was threatening to burst into flames the next time I tried to slow down.
There followed one of those karmic "good news-bad news" ping-pong matches that the universe occasionally plays with mere mortals such as we.
Unfortunately, I was smack-dab in the middle of the
National Radio Quiet Zone
, where cell phone reception is but a futuristic rumor. Fortunately, I believe that cell phones are the tool of the Devil himself, and I won't even talk on one, much less own one. Fortunately, there was a bank across the street, whose employees generously allowed me to call AAA for emergency road service. Unfortunately, it was 2:00 on a Friday afternoon, and I was 3 hours from my hotel.
Fortunately, the tow truck operator showed up promptly, with news that he had located a brake caliper for my truck. Unfortunately, AAA had told him my truck was a 3/4 ton pickup, which it is not. Fortunately, his shop was just a few miles up the road, so he could still locate the right part and get me rolling. Unfortunately, the parts store had a left hand caliper, but NOT a right hand caliper for my Ranger. Fortunately, he was willing to take a look at the problem and see if anything could be done. Unfortunately, he had to "run into town" before he could assess my problem. Fortunately, the town he had to run into was only 10 miles away. Unfortunately, this errand would consume "about an hour". Fortunately, he returned in 45 minutes. Unfortunately, still no brake caliper. Fortunately, he pulled the wheel and found that the passage of time and the resulting dissipation of heat had freed up my hitherto expanded brake caliper piston.
That's it. No more "unfortunately." I win. I beat the pole-smoking universe at its own capricious game.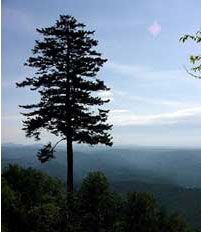 And I did scurry and scamper over and about the Appalachian Mountains, enjoying views such as this, and remembering at all times to use 2nd gear when descending steep mountain grades.