Christians! They're grrrrrrrrreat!
It's always been conventional wisdom that the appreciation of art is subjective. ("I may not know Art, but I know what I like.") Well, you can kick that old-fashioned, pre-Web 2.0 thinking to the curb where it belongs. Because
Dick Detzner
is simply the best artist ever. Now, I can hear you asking, "Hey, what about Picasso? What about Botticelli? What about
Neil Shakespeare
? What about that guy who paints all those fucking snow-clad cottages with candles in the windows?
Worthies all, and among the finest paint-slingers and gesso-wranglers ever to render a rendering. But none can compare to Dick Detzner. Consider the image above, entitled, "Christians...They're grrrreat!" Observe the juxtaposition of two great iconic images. Marvel at the clever title. Shiver with awe at the delicate interplay of color and light!
And consider this stirring portait, entitled "Breakfast of Saviors." What would Jesus do? He'd start his day with the fiber-rich goodness of a processed breakfast food that closes the self-referential loop by coming
that close
to the unleavened, pre-transsubstantiated Body of Christ! If only they had served milk instead of wine at the Last Supper....eating breakfast would be like celebrating Mass! But I can't claim credit for that brilliant insight. That's right.....Dick Detzner beat me to it.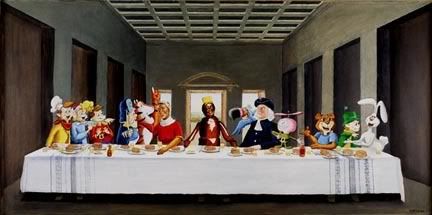 How many of your favorites can you identify in this worshipful depiction of "The Last Pancake Breakfast?"
And as if the ol'
Ars gratia artis
wasn't enough, all of Mr. Detzner's sacred designs are available as prints, or even on t-shirts, just in time for the holy Christmas shopping season. You'll find something for every light-hearted free-thinker on your Winter Solstice gift list. Or, you might just want to piss off your pointedly pious inlaws. Either way, Dick Detzner's your man!
Editor's note: Black Sky Theory is in no way associated with Dick Detzner. I figure I'm as likely to get a cease and desist letter as a free t-shirt or art print for my den.