I had no idea the Baby Jesus loves me this much...
I tell ya', I'm
this close
to a "Saul-on-the-road-to-Damascus" conversion moment. As an atheist and a member of the reality-based community, it's difficult for me to accept the existence, much less the purposeful intervention, of a deity. But after the events of the past few days, I'm about ready to walk to the altar and give it up for the Baby Jesus (pictured at right).
My week of Sanctified Miracles started on Thursday, when, after a two-day trial on a felony possession with intent charge, a jury returned a not guilty verdict in favor of my client in a County Record
19 minutes
! Now, it's not all that unusual for me to win a trial, but when you consider that twelve people will take 15 minutes to adjust their underwear, pick a seat at the table and elect a foreperson, 19 minutes is mighty damned impressive. I was so busy with my trial that it wasn't until that afternoon that I learned that the Reverend Ted Haggard of the Christopithecus Day Care Temple of Divine Grace, Anointed Blessings and Methamphetamine-fueled Man-love had been outed. Now, I'm a skeptic. I needed more proof that the Baby Jesus really loved me, so I asked him to send me a Sign. Something unmistakeable, like a picture of Pastor Brokeback Smokecrack with the Resident of the United States.
Imagine my rapturous surprise: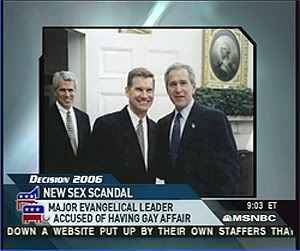 And then, in rapid succession, four days before the election, Bob Ney (R-Federal Prison) resigned, and
the Army Times put the smackdown on Vlad Rumsfeld
.
I'm tellin' ya', it's almost too much for this poor old atheist to take.