I've changed my mind. I LOVE CHRISTMAS!!!!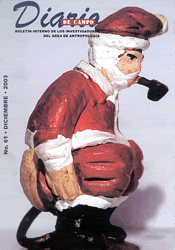 Friends, I once was lost, but now am found. I was blind, but now I see. Put me down as a 100% tree-trimming, stocking-hanging fan of Christmas!
You see that fella to your right? That would be Santa. And, as you can see, Santa is taking a shite! Pinchin' a loaf of fruitcake! Delivering the ol' Yule log! (What am I, 13 years old? Sorry.)
Imagine my surprise when I learned that in Catlan Christmas tradition, the nativity scene contains, in addition to the Three Kings, Joseph, Mary, Babyjeesus, ox, ass, etc., a character called "El Caganer" or, en Ingles, "The Defecator"!
Hey, don't take my word for it. Here's what
MSNBC
has to say:
Throughout Spain's northeastern Catalonia region, statuettes of "El Caganer," or "the great defecator" in the Catalan dialect, can be found in Christmas scenes, and increasingly on the mantelpieces of collectors, where for centuries symbols of defecation have played an important role in the season's festivities.
(Just an aside. I'm pretty well-read and over-educated. How is it that I have never heard of this?)
And as if Santa himself had granted my most fervent Christmas wish, you can get un caganer representing
George W. Bush
himself, for the low, low price of 12 Euros.
But wait....there's
more
!
The Catalonian Christmas festivities wouldn't be complete without an appearance by "Tio de Nadal", or, roughly, "The Yule Log." The tio is also called "caga tio" which translates to "shit log." There's even a carol:
caga tió,
caga turró,
avellanes i mató,
si no cagues bé
et daré un cop de bastó.
¡caga tió!"
Shit, log,
shit torrons,
hazelnuts and cheese,
if you don't shit well
I'll give you a blow with a stick.
Shit, log!
The local confectioners sell candy resembling feces. I'm laughing too hard to continue. More later.